Lasercentre UK design, manufacture and install Street Furniture all over the UK, from simple to more sophisticated designs.
Customers can choose from a  range of standard products as well as creating custom furniture with our team.  The team work from client briefs to design and develop bespoke suites of urban street furniture. Our finished products can therefore reflect the individuality that is demanded by the modern streetscape.
The Street Furniture Range Includes:
Bollards
Litter Bins
Seats
Benches
Pedestrian Guard Rails
Cycle Stands
Signage
Customers can order products as both single and multiple items. Just Make an enquiry with our sales team.
The Lasercentre Stockport facility manufactures street furniture to an extremely high standard. As a result, we can provide different sized products in a variety of materials. Our furniture uses highly polished or satin stainless steels, chrome or simple polyester powder coatings.  We also include mild stainless steels, polymers and hardwoods.
Lasercentre UK Street furniture can incorporate LED illumination and can also be finished to match their environment.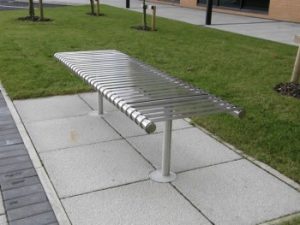 Practicality and aesthetics are the most important factors in our designs. While each range is designed to complement it's surroundings with maintenance requirements a driving factor.
The Lasercentre UK range of standard products meet many requirements. In addition, we also work directly with our clients to produce custom furniture ranges.
Furthermore, we do our utmost to fit within your timescales as well as budget.